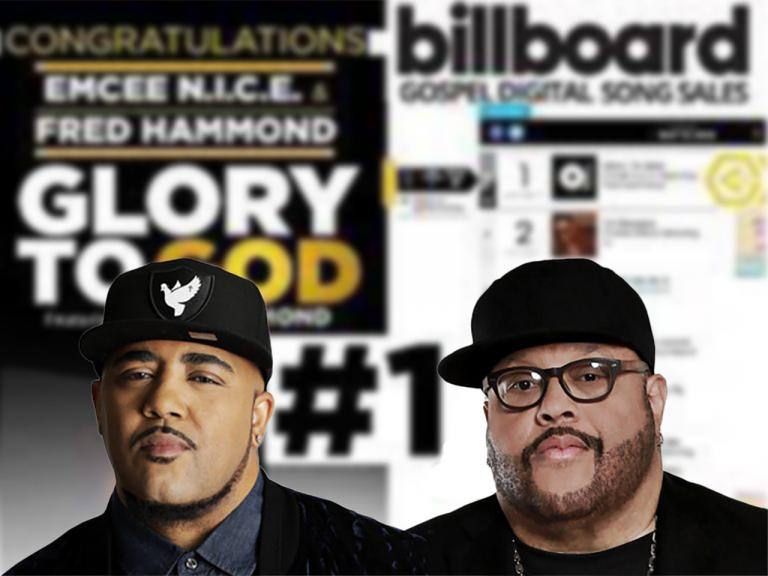 EMCEE N.I.C.E.'S "IRON DOVE (ACT I) (The Blessed Coast)" debuts at #5 on the iTunes Christian & Gospel Charts!
Emcee N.I.C.E. proves once again why he is not only a savvy veteran but a vanguard in the CHH christian hip hop genre and culture. "Iron Dove – Act I: The Blessed Coast", is a 17 track masterclass in how to structure a classic album from top to bottom. With his sophomore release in the genre, N.I.C.E. debuted at #5 on the iTunes Christian & Gospel chart with the likes of Casting Crowns, Maverick City & CC Winans and landed in the Top 10  on the Amazon Christian & Gospel Chart. On his first-time introduction in gospel music and christian rap, with his debut album "Praise" and single "I Got Angels" he became a five-time #1 Billboard Christian Hip Hop Gospel star by chart-topping Billboard sales and airplay as the #1 Top Gospel Albums, #1 Gospel Album Sales, #1 Hot Single Sales, and #1 Digital Song Sales. As amazing as the songs, the emergence of Emcee N.I.C.E. on multiple charts measuring independent albums, Christian songs, R&B/Hip-Hop albums, and emerging and current artists has placed him in rare air as a notable trailblazer coming from secular to gospel music.
"Iron Dove – Act I: The Blessed Coast" a 17 track christian hip hop and gospel listening experience that is part of a trilogy that will define his 25 year career in music, at the same time highlight some of the battles that took place to get to where he is today. With the "Iron Dove" three act trilogy, N.I.C.E. sets his sights on bridging the gap between Christian/Gospel and CHH/Gospel Rap with a story that follows the journey of a heroic messenger sent by God to assemble a spiritual army to fight the demonic oppressors, share the gospel and bring about harmony, unity and peace among his people. Act I: The Blessed Coast is the Iron Dove's arrival to the west coast aka "The Blessed Coast" where he is tasked with assembling the army for the war, "19:19" (Act II) and then bringing peace "Kumbaya" (Act III).
Iron Dove is musically brought to life by Award winning super producers, Sam Peezy, Lamontt Blackshire (formerly known as Spechouse) & Marv4MoBeats and has an ensemble of Legends in gospel such as Fred Hammond, Bishop Cortez Vaughn, Hip Hop Legend Domino, Gospel Rap Legend ChilleBaby of the GospelGangstaz, Gospel chart toppers Uncle Reece & Sam Peezyalong with newcomers Erica Mason, Jessica Hitte, J. Will, Rezurrection, Jarrett Burton, DaLomonze & Billboard chart topper Alonda Rich. Emcee N.I.C.E. song "Dancin" (ft. DaLomonze) also achieved #1 on the MRC/BDS Nielsen Internet Radio Christian Hip Hop chart. The album is mixed by multi-platinum Engineer, Grammy nominatedRay Seay of Atlanta (Flo Rida, Pittbull, T.I., Snoop Dogg, Rick Ross, Lil Jon) & Mastered by Grammy Nominated Chief Mastering EngineerKennyMixx(Dr. Dre, Kanye West,Pitbull, Blanco Brown, Rick Ross, T.I., 2Chainz, Lil Wayne). Executive Produced by Aulsondro "Novelist" Hamilton, Christopher Starr of CSP Music Group & Chantal Grayson.
Through the pandemic Emcee N.I.C.E. has been thriving, he was asked to collaborate with – – recording artist  PTtheGospelSpitter on the #1 hit S.f.T.K. (featuring Emcee N.I.C.E.) and the song went #1 in Belgium, South Africa, Switzerland and #3 in the UK on iTunes and spent 16 weeks at the top of BDS/MRC Internet Radio Gospel and 23 weeks BDS/MRC Internet Radio Christian Hip Hop, becoming the first CHH Christian Hip Hop record to have a No. 1 on both charts at the same time. The success of that song turned into a short movie, S.f.T.K. (Service for The King) The Movie that has won 9 film festival awards to date including "Best Inspirational" (New York Movie Awards) and "Best Ensemble Cast" (Best Shorts competition. The cast includes Gospel R&B/CHH recording artist and PTtheGospelSpitter, Emcee N.I.C.E., Angelo Diaz (Atlanta Homicide), Gemma Mchilhenny (Power Book II: Ghost, Inventing Anna), Neil Carr and J-Nibb, The film features a remix by billboard chart topper Sam Peezy and an added guest feature by J-Nibb, the remix has already garnered a #1 in Belgium on iTunes, the film is currently available on AppleTV.
To be a catalyst, one would have to cause change and that change would disrupt the norms to create new ones, it is often a part of one's evolution.  Emcee N.I.C.E., a veteran Hip Hop artist, producer, writer and all-around creative, has been constantly evolving in both music and leadership that's included collaborations with rap icons NAS and 2Pac (posthumously), a song on the soundtrack Academy Award-winning film "Crash," a cover of a Prince song, enthusiastically approved by The Artist himself. 5 number #1 record's on the Billboard music charts, in the fields of Gospel & Christian, A Stellar Award and 7 Gospel Spin Awards and honored as "Radio Man of Year" in 2021. Co-creator of the urban animated series "Da Jammies," the first black animated music series to appear on Netflix for kids. N.I.C.E. knows no creative limits.
Connect with Emcee NI.C.E.
Google: http://goo.gl/NZPs4B
(Emcee N.I.C.E.)
Google: http://goo.gl/PJiWq4
 https://www.thehypemagazine.com/2022/02/emcee-n-i-c-e-is-the-quiet-storm...